Anna Guthrie is a stockdog trainer from Valley Center, California. I've been driving down to work my collies with Anna this week. Here's a view of her place in the spring:
[Left to right: sheep, cattle, Peggy Sue.] Walking across a pasture just about anywhere in Southern California these days is like standing on a griddle --- the temperature where I live hit 118 degrees F. last month, and it's warming up again this week. The California countryside is still the most beautiful on earth, though, if you ask me.
Anna and her good stockdog Riddle just got back from Wyoming's summer cowdog trials. They'll be setting sheep at Soldier Hollow and the National Finals (on the Nursery field) in September.
Here's Riddle, checking out a friend's rig back in June: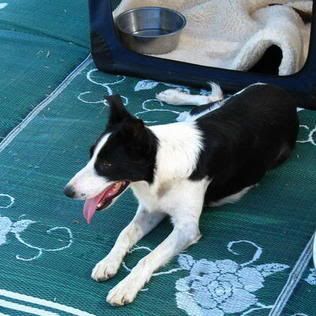 Riddle won the Laramie County (sheep) & Cattle Trial in Cheyenne and finished second in the WSDA Cattle Dog Series Finals at the State Fair in Douglas.
On a related note -- kind of a tenuous tie-in, really, but I did launch this enterprise with a post on prey drive -- here's a YouTube video of a pit bull working sheep. Well done, Hagrid! Happy boy, and you can see his sweet bully temperament.
Link: Hagrid the Herder